HansaManuals Home >> Standard ERP >> Kliendid ja hankijad >> Kontaktide register
Eelmine Järgmine Prindi kogu peatükk Otsi
Juhend HansaWorld Enterprise'i versioonile 4.0
Entering a Customer - Contact Card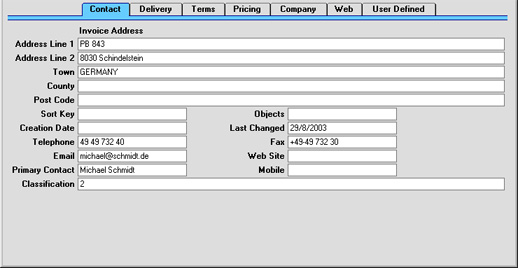 Inv. Address

Used as default in
Invoices


Enter here the address to which Invoices and statements are to be sent.

If you want to give a name to each of the individual address lines, use card 2 of the User Defined Fields setting in the CRM module. This can be useful if, for example, you want to indicate that the town is always to be typed into the third line of the address.


Sort Key


This field can be used in countries where a post code, zip code or other area code appears on a separate line in an address. Note that, if the field is used for this purpose, it will need to appear on the standard Forms (Invoice, Delivery Note, etc). Therefore, the models supplied with Hansa will need to be modified accordingly using the Form register in the System module.

You can also use this field to organise your Customers into zones to provide a guide for delivery drivers. The Sort Key is copied to the Sorting field of the Sales Order record. The Sorted Order List report in the Sales Order module is a list in Sort Key order of Orders with a particular Planned Delivery Date.


Objects

Paste Special
Object register, Nominal Ledger/System module


Used as default in Quotations, Orders, Invoices

Up to 20 Objects can be assigned to each Customer, separated by commas. They will be used as defaults in all Orders, Invoices and other transactions involving this Customer. You might define separate Objects to represent different departments, cost centres or product types. This provides a flexible method of analysis that can be used in Nominal Ledger reports.


Creation Date


This field automatically records when this Customer was added to your Hansa database. It cannot be changed by the user.

The Customer List report can be used to list Customers that were added or changed after a certain date.


Last Changed


This field is updated automatically by Hansa whenever any modification is made to the Customer record on screen.


Telephone, Fax, Mobile


Enter the Customer's main telephone, mobile and fax numbers here. If you have the CRM module, extensions, direct line and mobile numbers and e-mail addresses for each contact can be recorded there.

If you are using the Hansa Fax Server, the fax number will be used when faxing documents to this Customer.

The 'Update Fax Numbers' Maintenance function in the System module can be used to remove spaces and dashes from all Customers' Fax Numbers. This will be necessary if you will be sending faxes through the fax server, in which case fax numbers should not contain non-numeric characters.


Email


If the Customer has an email address, enter it here.


Web Site


If the Customer has a website, enter its address (URL) here.


Primary Contact

Paste Special
Contact Person register, CRM module


Used as default in Quotations, Orders, Invoices

The name of your main contact person can be entered here: it will be transferred as a default entry whenever this Customer is used in a transaction. If the CRM module is installed, the 'Paste Special' selection list will only show contact names for the Customer in question (identified by Customer Number). If you need to add more contact names, use the 'New Contact' function on the Operations menu.


Classification

Paste Special
Customer Classifications setting, CRM module


This field provides a further means of grouping Customers of a similar type together. It can be used as a reporting and mailing criterion in the CRM module and in the Sales Ledger. It is possible to allocate more than one Classification to each Customer, separated by commas.

The 'Add Class to Customer' Maintenance function in the CRM module can be used to assign Classifications to Customers based on the Items they have bought or not bought.