HansaManuals Home >> Standard ERP >> Report Generator >> Organising Reports
Previous Next Entire Chapter in Printable Form Search
This text refers to program version 8.5
Organising Reports
This page describes making a Report Generator report available to other modules and controlling access to it using Access Groups.
---

Once you have designed a report you can make it available to other modules. Users will then be able to print the report from the 'Reports' list as if it were a report that is built in to Standard ERP. As well as making it easy to print the report, this protects the Report Definition from accidental changes.

To do this, enter a single record in the Reports In Interface setting in the Report Generator for each Report Definition: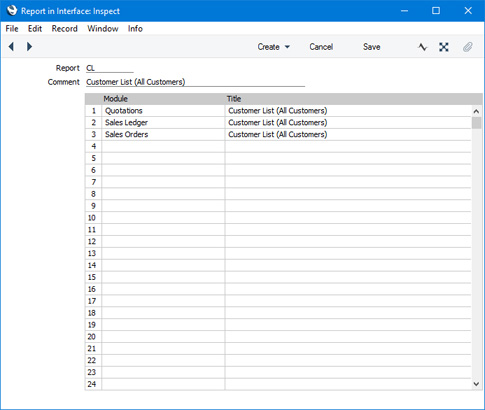 Report

Paste Special
Report register, Report Generator


Enter the Report Code here.


Comment


Record any comment here.
Use the grid area to the list the modules from which the report can be printed. Use 'Paste Special' to choose from a list of modules. The Title is the name that will be given to the report in the 'Reports' list.
In the example illustrated above, it will be possible to print the report from the Quotations and Sales Orders module and from the Sales Ledger. The report will appear at the end of the 'Reports' list, after the built-in Standard ERP reports. This is the list from the Quotations module: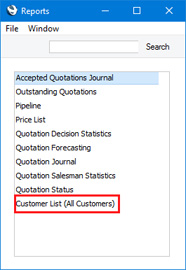 If you add several reports to a single module, they will be listed in Report Code order.
If you add or change a record in the Reports In Interface setting, you will need to quit Standard ERP and restart for the change to take effect. In a multi-user system, you will not need to restart the server but you will need to restart the clients (or log in again using the [Login] button in the Navigation Centre).

Having thus added a report to a module, you can control access to it in the normal way using Access Groups.

Enter "Report" in the Type column and the Report Code or Report Name in the Item column. If you enter the Report Code, it will be replaced by the Report Name automatically. Then specify the appropriate level of access in the Level column. This level of access will be applied to the report in every module.
Please refer here for details about copying a Report Definition from a test database to your main database.

---

Go back to:

Previous Next Top Entire Chapter in Printable Form