HansaManuals Home >> Standard ERP >> Items and Pricing >> Reports
Previous Next Entire Chapter in Printable Form Search
This text refers to program version 4.0
Item Turnover History
This report is only available from the Sales Ledger. It shows monthly sales totals (both quantities and values) for the Items in the selection in a specified calendar year.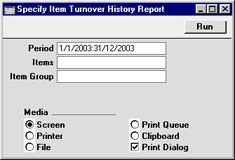 Leave all the fields blank if the report is to cover all the Items in the Item register. Otherwise, use the fields as described below.
Period

Paste Special
Reporting Periods setting, System module


Enter the start and end date of the reporting period.

The report is an analysis of Items sold by calendar year. Therefore, if a period is specified that spans two years, analysis will only be provided for those months up to and including December of the first year.


Items

Paste Special
Item register


Range Reporting Alpha

Use this field to limit the report to a single Item, or range of Items.


Item Group

Paste Special
Item Group register, Sales Ledger


To limit the report to a single Item Group, enter an Item Group Code here.

If both an Item Group and a range of Items are specified, the report will cover only those Items in the range which are members of the specified Item Group.