HansaManuals Home >> Discontinued Products >> Standard Invoicing >> Customers and Contact Persons
Previous Next Entire Chapter in Printable Form Search
This text refers to program version 6.3
Entering a Contact - Contact Card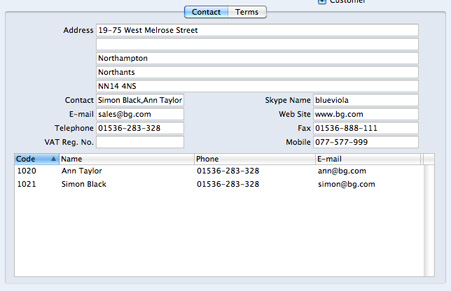 Address


Enter here the address to which Invoices, statements and Payments are to be sent.


Contact

Paste Special
Contact Persons in Contact register


Used as default in Sales Invoices

If the Contact is a company or organisation (i.e. not an individual person), enter here the name of your most important Contact Person working there. This person is your "Primary Contact". If you need to add the names of more Contact Persons who work for the company, use the 'Create Contact' function on the Operations menu.

If you specify the Contact in a Sales Invoice as the Customer, its Primary Contact will be copied to the Attention field in that Invoice. You can of course change to another Contact Person in that Attention field. The 'Paste Special' list from that field will only contain Contact Persons that work for the Customer.

Please refer to the Contact Persons page for more details.


Telephone, Mobile, Fax, E-mail, Skype Name


Enter the Contact's main telephone, cell phone and fax numbers, email address and Skype name here.


Web Site


If the Contact has a website, enter its address (URL) here.


VAT Reg No.


Record the Contact's VAT Registration Number here.

When you save the record, there will be a check that you have not already used the VAT Registration Number in another Contact record. If you have, you will be warned, but you will still be able to save the record. The warning will contain the Contact Number of the other company.
At the bottom of the 'Contact' card, there is a grid. If the Contact is a Customer, this grid will list the Contact Persons working for them. Please refer to the
Contact Persons
page for full details.
---

In this chapter:

Go back to home pages for: