HansaManuals Home >> Standard ERP >> System >> Account Register
Previous Next Entire Chapter in Printable Form Search
This text refers to program version 4.0
Introduction to the Account Register
This is where you define the Chart of Accounts. Each Account has a number and a name, and belongs to a class of Accounts.
Hansa has no pre-assigned Accounts. Each user must define a Chart of Accounts, or import an existing one. The simplest method is to use the standard Chart of Accounts supplied with Hansa. Please refer to the Setting up a Basic Accounts System page for details of how to do this.

!

If you use your own Chart of Accounts, or modify that supplied with Hansa, it is important that all the Account numbers used in the settings and report definitions for each module are made to agree with your own numbers.
In Hansa you always have access to the Chart of Accounts through the 'Paste Special' feature, for example when you enter Transactions and cannot remember an Account Number.

Show all Accounts on screen
In the System module, select 'Accounts' from the Registers menu, or click the [Accounts] button in the Master Control panel. The 'Accounts: Browse' window is opened, showing Accounts that have already been entered.

The list contains two columns: Account Number and Account Name. The list is sorted by the column whose heading is underlined. Click on the column heading if you want to change the sort order, and double-click on the column heading to reverse the sort order.
Searching for an Account
In the 'Accounts: Browse' window shown above, you can scroll up and down through the list of Accounts as usual. You can also search for a particular Account by entering the first few characters of its Number or Name in the Search field in the top right-hand corner of the window. Enter a Name if the list is sorted by Name, a Number otherwise. Hansa will find the first record that matches the text you have entered.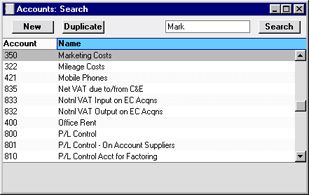 Previous Next Top Entire Chapter in Printable Form